i'd like to dedicate this blog entry to my wonderful mother who, despite forgetting my birthday altogether, bought me a new laptop as a belated birthday/anniversary gift!!!!!!!
it's so wonderful. it has an enter key and EVERYTHING. how great is that? and it has over twice the amount of memory that the other one has. and it doesn't make the lawnmower noises like the other one, or beep for the first two minutes it's turned on. AND, and and...it doesn't have to be plugged into the wall in order to work.
basically, it is awesome. really really awesome. like really. i mean it.
THANKS MOM!!!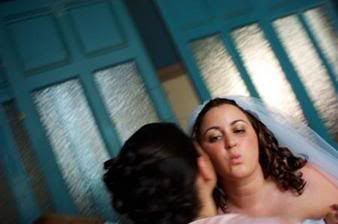 (i promise i'm not so full of myself as to thank my mom and then post a picture that's mostly of me...it's just that it's the only one i have on the computer of her...you understand, right? which reminds me...wasn't the long hair WONDERFUL?!?! i want it back)
and a minor shout out to those incredible treadmill music video dudes...wow. that's talent.